Owner direct Vacation Rental Cottage at 205 E. Brown Luxury Cottage- Heart of Historic Southport
4 Bedrooms - 3 Baths Described
The 205E Brown is 4 bedrooms and 3 baths.  We will describe them here as  #1 Master Suite, upper  #2 Main Level Queen, #3 Queen Upper #4 2-Twins
Location, Location, Location
Truly in the Heart of Town AND on a quiet live-oak canopied side street.  Perfect – 100 yards from shops and restaurants and an easy 6 minute walk to the waterfront park, museums, and parks.
Discover
The Bedrooms and Baths
All bedrooms nicely furnished have Heart of Pine Floors with center rugs, very nicely appointed with fresh decor, lots of windows, 2 nightstands, dressers with mirrors, and USB ports and electric connections convenient to the bed.  HDTV's with Roku Internet TV's with in the Master and Upper Level Queen Bedrooms. Excellent WI-FI signal in all bedrooms via an EERO nest.  Fast Spectrum Internet.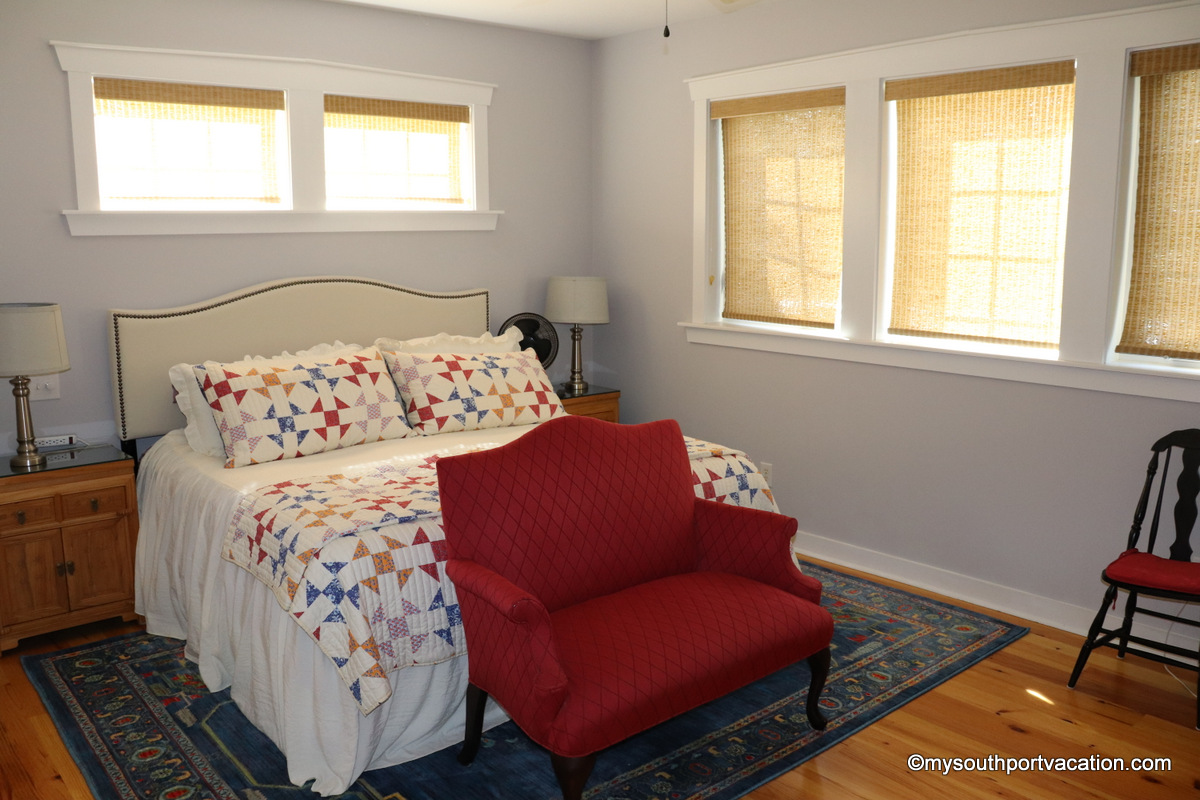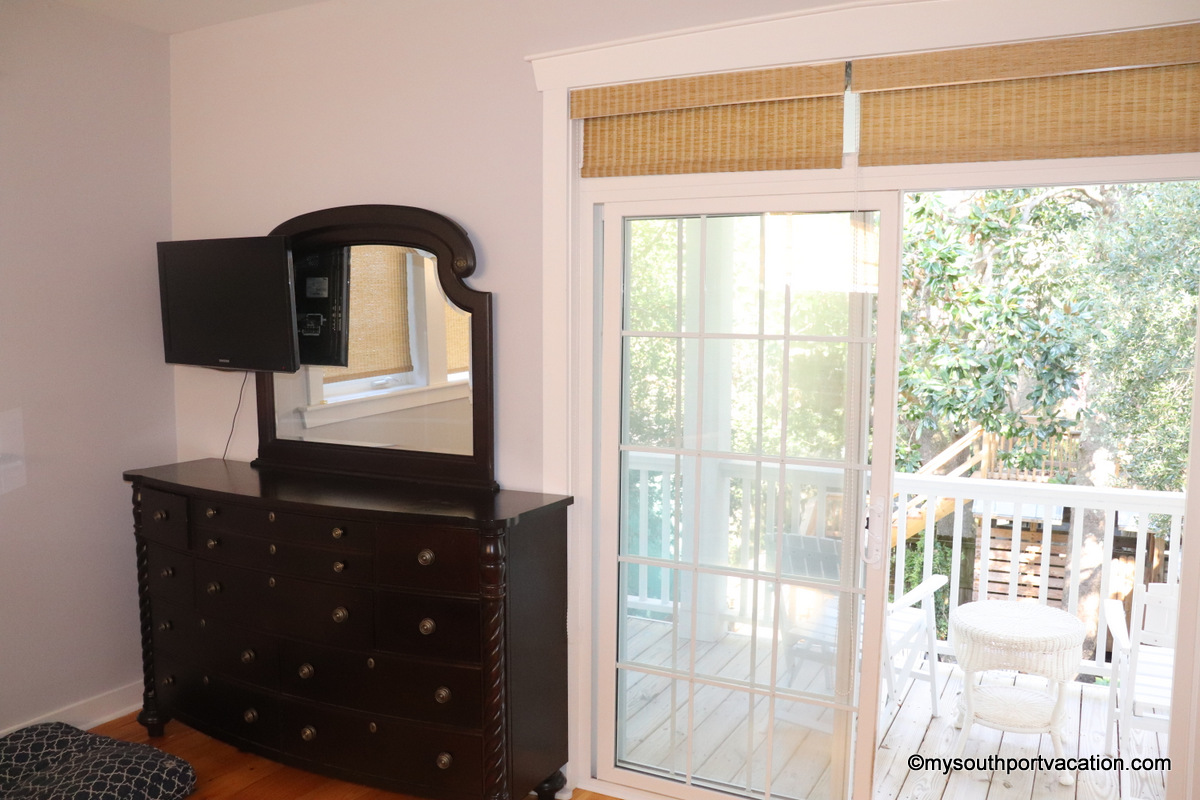 The Master Suite- Bedroom #1
Very private and cozy master suite which is accessed only by a private stairway off of living room (upper level).
Large bedroom 16.2′ x 14.1'with large walkin closet
Bedroom climate-controlled by thermostat in same room.  Master suite has its own private A/C-Heat Unit, a wonderful thing.
Wall-mounted 40″ HDTV with Internet connection- Roku with Spectrum.  Includes Pandora in the wi-fi selections for nice stereo music setup.  DVD player.
Private Bathroom with 2 sinks and shower tub combo and lots of storage bins for your things.  Includes hair dryer.
King bed on recently purchased Sealy mattress
NIghtstands on both sides of the bed with convenient USB connections
ceiling fan
Settee at foot of king bed and extra room chair
Private Balcony with seating overlooking the hardscapes oasis-like courtyard back yard.
View of the tree-canopied courtyard out the glass sliders from the bed gives you a cozy sense of treefort feeling.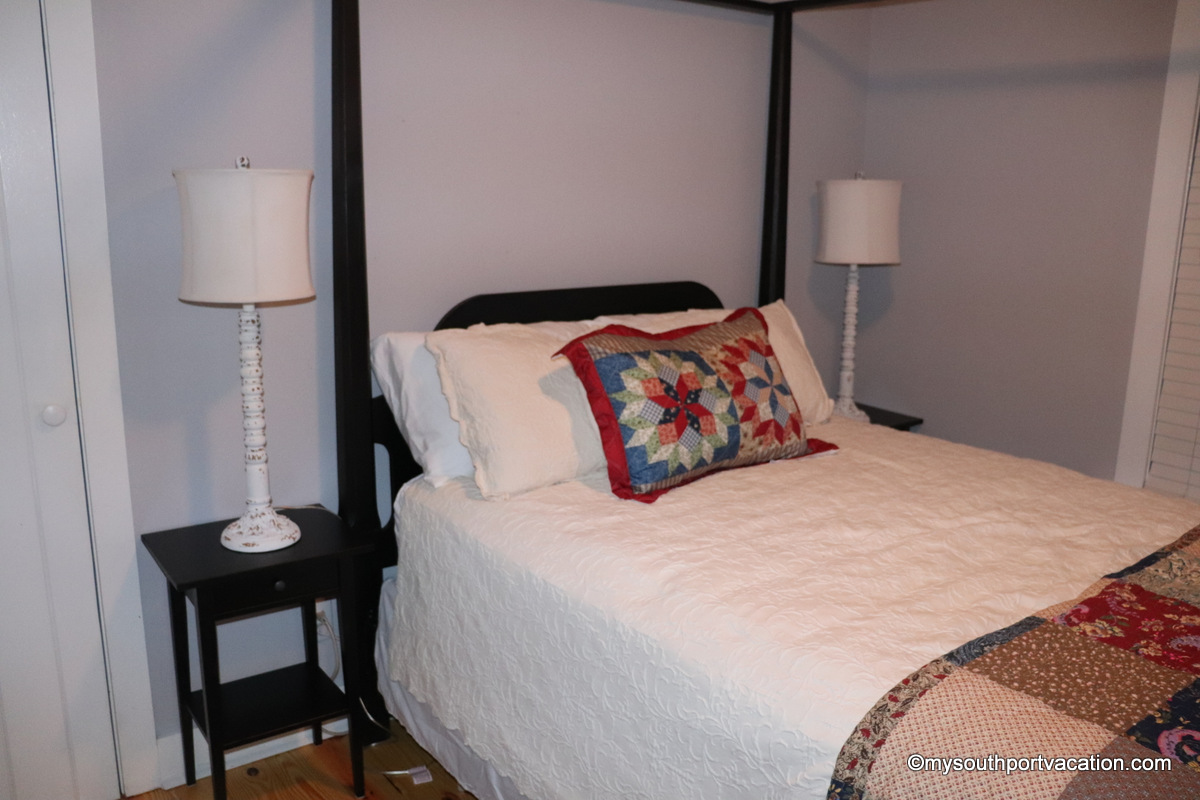 #2 Queen Bedroom- Main Level
Queen poster bed
Comfortable room size 12'x11.4′
Walk-in closet
Ceiling Fan
Nice Dresser w/Mirror
Dual Nightstands with USB connections
Nearby Full Bathroom (not en suite) with shower/tub combo.  Single sink.  Hair dryer.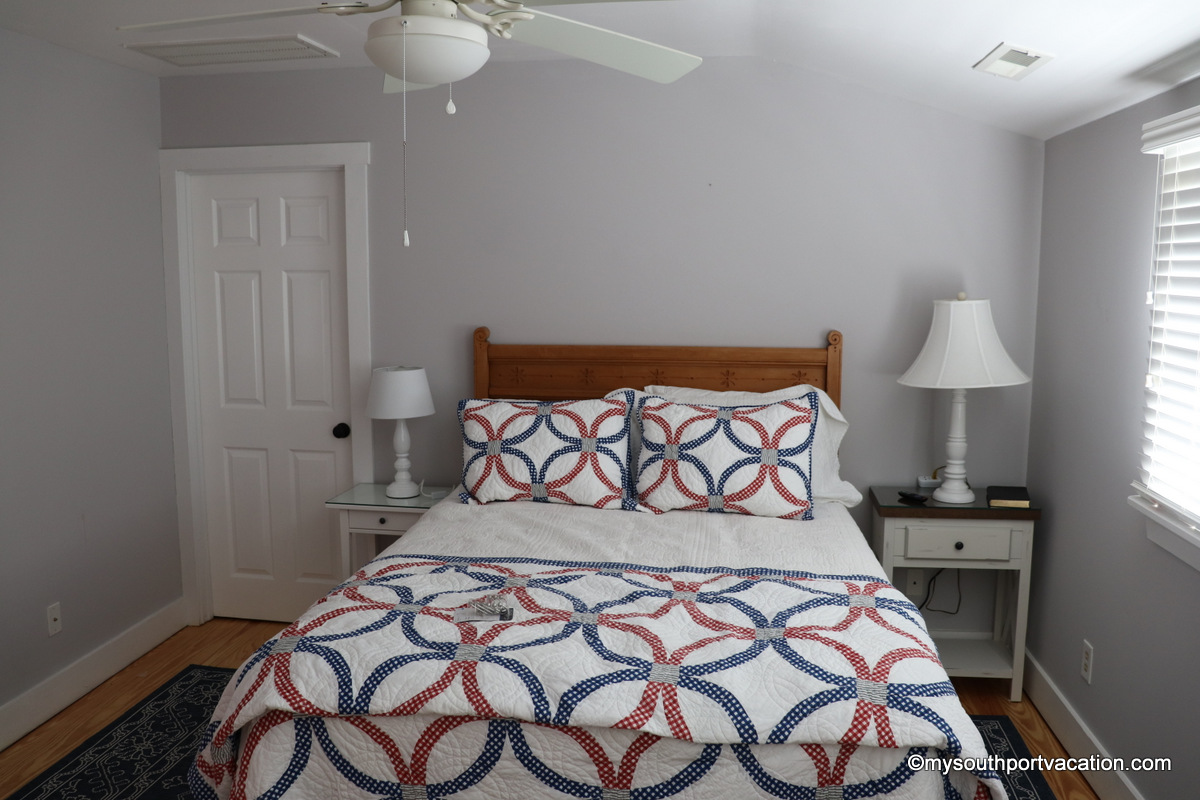 Bedroom #3 Queen – Upper Level Bedroom
Queen Bed

Ceiling Fan

Great natural light with double windows 

Nice-sized room with Large
2 large closets, including walkin closet
Closet Night Stands with handy USB ports 

43″ HDTV with  Internet, Roku, and Spectrum.  Great Wi-fi signal via EERO nest

Shares bath with BR#4, just outside of bedroom on short hallway.  Nice-sized bathroom with walkin shower
Bedrooms #3 and #4 at top of stairs, across from one another
Great A/C with Heat Pump Unit controlling BR#3 and #4, and hall bath.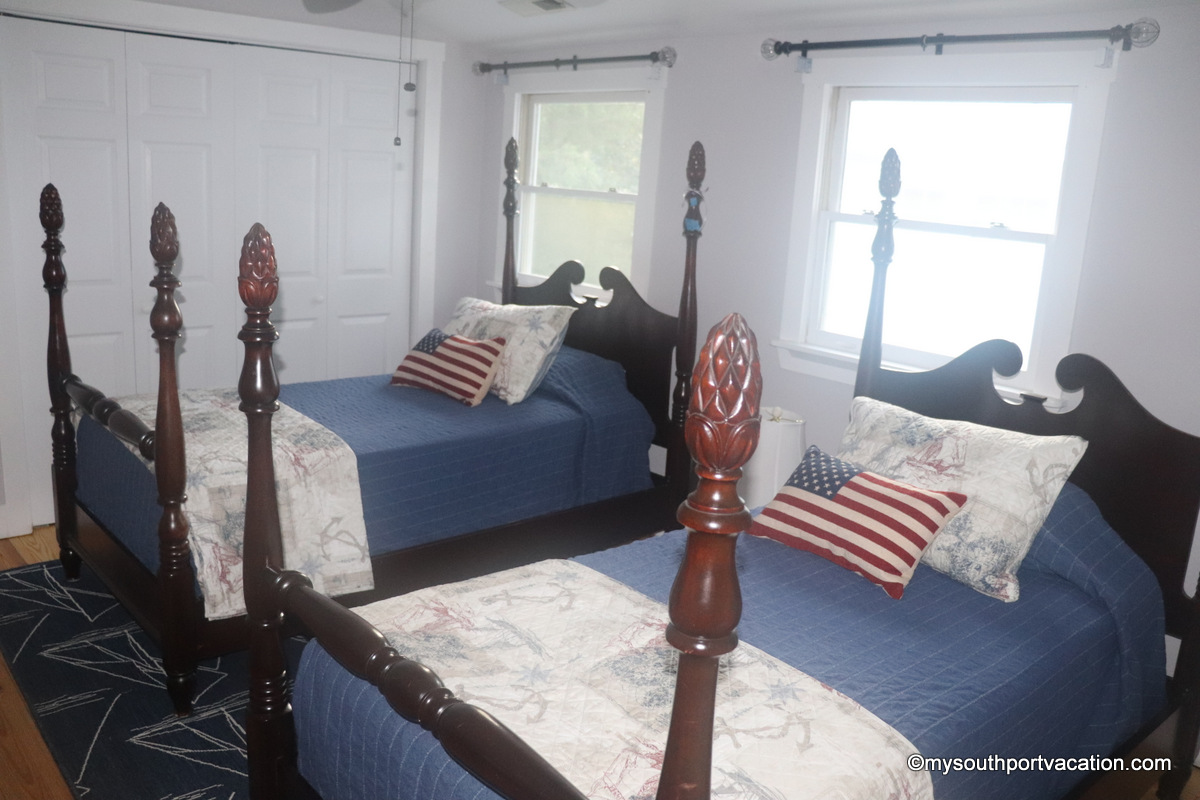 Bedroom #4 Two Twins – Upper Level Bedroom 
Two Twin Poster Beds
Ceiling Fan
Nice-sized room with large closet
Night stands with handy USB ports
Large Closet
Double windows.  Great natural light
See BR#3 comments on nearby bath and climate control
A Large Luxury Modernized Historic Cottage in the Heart of Southport, near the Waterfront Park
 a 
When you arrive at the 205 E. Brown St Cottage, you have parking for up to 3 cars immediately in front of an inviting picket fence and a few steps away from the full side-to-side Coastal Cottage front porch.  205E Brown is large with over 2600sf on 2 levels. It is a shotgun-style coastal cottage with lots of outside decking. This is a historical home and the local Historical Marker puts it at circa 1893.  Major additions and remodels were done as recently as 2007. This home has been extremely well-maintained and has been kept up-to-date over the years.  The Cottage features Heart of Pine floors throughout (both levels), some of which are original, 10' ceilings on the main level, and door styling and trims that are true to the cottage's historic roots.  The cottage is completely modernized to today's standards for an upscale home.
As you enter the cottage from the front porch, the first room is a game room, complete with pool table, large HDTV and nice seating. A bedroom with Queen Bed is just off to the right of the game room, with a full bath (shower/tub combo) nearby.
Just past the game room is a very large and fully equipped kitchen with stainless appliances and a high-end gas stove. Refrigerator with icemaker, mounted microwave, water filtration system, dishwasher, spacious counters, lots of cabinets, and large cast iron sink are all features of the kitchen. The kitchen cabinets include spices, crock pot, griddle, and all the other utensils and tools you would expect in a fully stocked kitchen. Kitchen includes a bar with 2 chairs.
From the kitchen, and on the other side of the shotgun walkway is a room with stairway to 2 upper level bedrooms, the full bath for the adjacent bedroom. There is also a comfortable sitting area in this room, perfect waiting place for that family member who is always ready on time while he/she waits on the others to finish getting ready for the group's next wonderful Southport adventure.
After the kitchen is a full-sized laundry room with extra large capacity washer and dryer. Laundry room includes a folding table and an iron and ironing board. It has a ceramic tile floor. The laundry room and the bathrooms all have ceramic tile floors. All of the other living areas of the cottage have heart of pine floors.
The next room is the dining room, which has a charming dining table with seating for up to 8, plus high chair. To the right of the dining room and also next to the kitchen is a private deck, which is where we keep the gas grill- very convenient to both the kitchen and dining room. Great space with seating, private, and a good spot to enjoy the beverage of your choice.
The last room on the main level is the living room. It is spacious with sectional sofa and other seating and includes a 55" HDTV. There are 2 exits with glass sliders- one to the back deck and one to a large screened porch to the side of the house. There is also a stairway to the privately accessed master suite for the cottage. The attached screened porch on the side of the house is large and has a nice couch and 2 lounge chairs and ceiling fan.  The covered porch to the rear of the house includes a hot tub located in a spot where you can easily see the living room HTDV or overlook the courtyard-style back yard.
The upper level Master Suite is not connected to the other 2 bedrooms on the top level.  Both areas are accessed by separate stairways and are completely private to one another- a great feature of the cottage.  The Master Bedroom is large, has a king bed and large closet, and is en suite.  The Master Bathroom includes 2 sinks and a shower/tub combo.  This bedroom includes a private balcony overlooking the courtyard. 
The other 2 upper level bedrooms are nice-sized and share a hall bath with walk-in shower located on the short hallway just outside of these 2 bedrooms.  One of the bedrooms has a queen bed and the other 2 twins.  
The hardscapes courtyard behind the house is oasis-like and is surrounded by a 6' privacy fence.  Canopied evergreen foliage, flowers along the perimeter, picnic table, fire pit, chairs, and hot tub all contribute to the courtyard's charm and appeal. 
The 205E Brown cottage cools nicely with 3 separate central A/C units- one for the main level, one for the upper level 2-bedroom section and one for the upper level Master bedroom.  Propane heat, 2 bikes, games, nice library, DVD players, nice stereo, hair dryers, and many other nice touches to the home to make it a comfortable place to stay.  The 205 E. Brown is modernized throughout.
We searched for a long time in Southport before we found this gem property.  Each hour we are there, as we hear the church chimes play hymns when the old church clock strikes each hour, we are reminded how much we have come to love Southport, our location, and the 205 E. Brown Cottage.  We love it, and you will, too.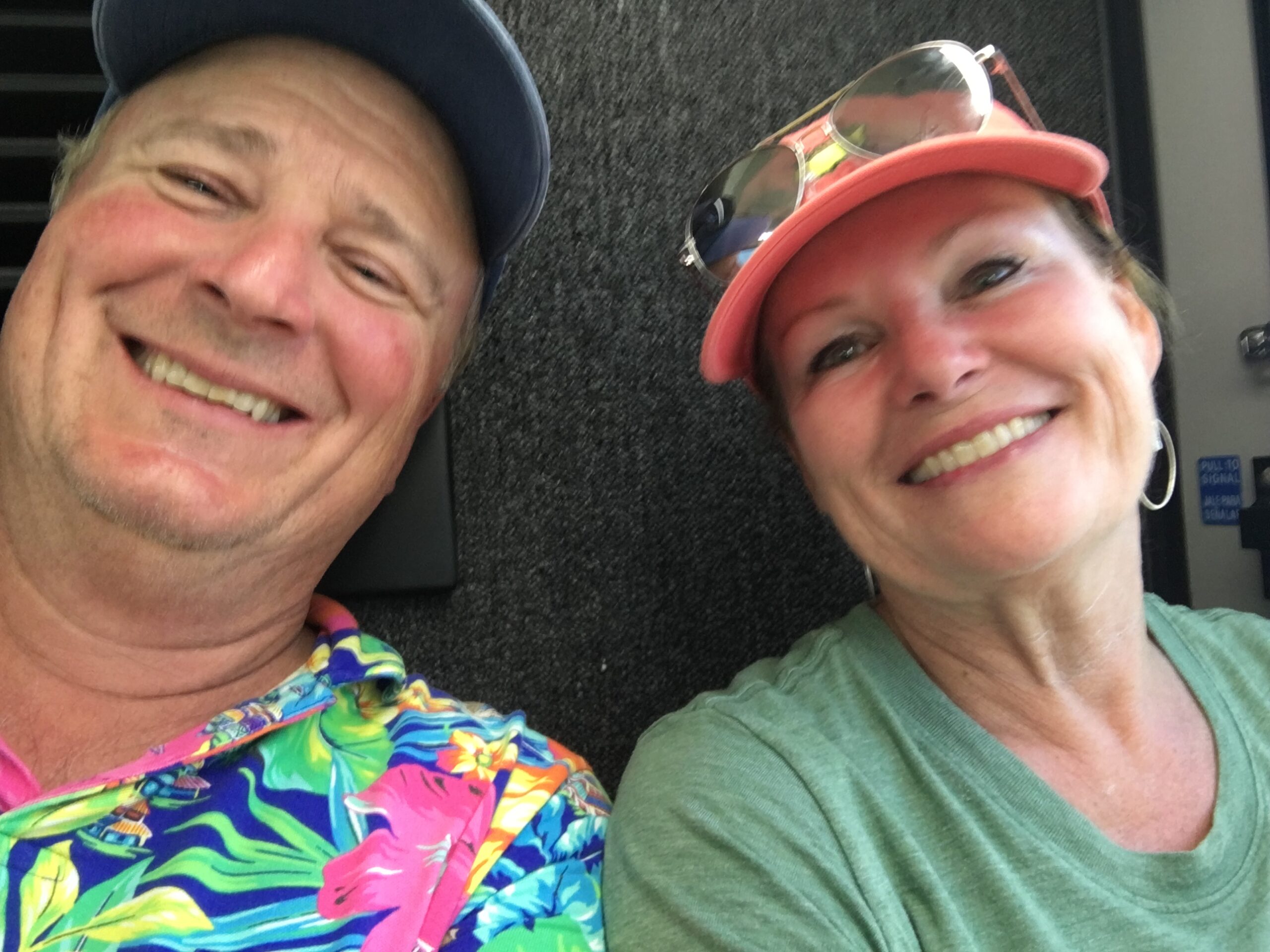 We live in Concord, NC and have had a vacation rental home in Ocean Isle since 1999, and still do.  We have fallen in love with Southport and purchased 205 E. Brown after a long search.  We think it is perfect, and you will too.  We are very active in the setup and will do what it takes to make your stay memorable and enjoyable.  We look forward to welcoming you for an upcoming stay.
Sharon and Marc, 205 E. Brown owners
Information
General Amenities and Other Living Spaces
TV's and WiFi
HDTV's in  Master and upper Level Queen bedroom, game room, living room, and kitchen.  Each TV is internet enabled with Roku and Spectrum.  Internet TV's each include Pandora for stereo music in any part of the house.  Game Room TV has sound bar for extra sound quality.  WI-FI is a EERO nest with high speed Spectrum wi-fi in all areas of the house.  No dead spots for the wi-fi.
Parking
Nice parking for up to 3 cars, all just a few steps to the door. Overflow parking can be arranged nearby upon request and advance notice (when contracting).
Bedroom Comforts
Every bedroom is furnished with extra pillows, quality beds, plenty of storage, night stands with USB convenient USB ports and much more.  
Kitchen
The main level is very large space with full kitchen, full-sized walkin laundry room, game room, living room, an extra sitting room near kitchen and stairway, and dining room, plus the 5 other outdoor living spaces.  Click here for more details on Kitchen.
Other Rooms
The main level is very large space with full kitchen, full-sized walkin laundry room, game room, living room, an extra sitting room near kitchen and stairway, and dining room, plus the 5 other outdoor living spaces.
Bathrooms
All bathrooms are spacious and freshly decorated.  Hair dryer in each.  Starter paper products included.  All have ceramic tile floors. 
Special Amenities
Pool table in Game Room- Upscale, level, leather pockets, very nice 7′.  Hot Tub on lower back covered deck off of living area.  Private and convenient to house.  2 bicycles included (But with our Heart of Southport location), you really do not need them, as you can easily walk everywhere).
Porches and Decks
Five Separate outdoor living spaces.  Front porch, 2 side porches (one screened with ceiling fan), back porch of main level and also balcony private porch outside upper level.  Makes this already large cottage live even larger. 
Oasis-like hardscapes courtyard in back of house off of deck. 6′ Privacy Fence, Picnic table and chairs, fire pit.  Outstanding space.
Information
Rules, Check-in/out, Cancellation- About the booking
Checkin & Checkout
Checkin is 5pm.  Check out is 12 noon.  We use the time in between to get the Cottage Ready for the next guests.  If home no one in before guest or immediately after late checkout of up to 2pm and early check in as early as 12 noon is possible without extra charge.  We have the later check-in  in order to allow the late checkout and enable guests to enjoy an extra final day for free.
Cancellation Policy
If you cancel and the cottage is re-rented at the price you paid or more, you will be refunded in full, except for a $100 cancellation fee.  If you cancel and the property is not able to be re-rented, then all rent money paid is forfeited- except, the security deposit and $200+tax for the cleaning fee which shall be refunded on all cancellations.  Security deposit and cleaning fee are party of the final payment, always, and initial payment is always 100% towards rent.  If the property is re-rented, but at less than what you paid, special rules apply in calculating a partial refund, as detailed in the contrtact.  205EBrown_contract
House Rules
No smoking, even on the grounds.  No pets.  Groups must be as represented.  No house parties.  We are in a quiet residential area where homes are close together.  Guests are expected to be respectful of the neighbors.  Quiet times before 8am and after 10pm.  Our home is set up for great privacy, but loud noise outside is not allowed.   No student groups, including chaperoned groups of youths.  Adult groups over aged 25 or family groups.  Minimum contract age = 25.  For more details on house rules, see contract.
Information
Location & Nearby Attractions
Restaurants
Southport has more restaurants per # of residents than most any community we know.  The reason is it is a central place for surrounding Bald Head Island, Carolina Beach, and Oak Island.  It is also a popular stop for visitors to Ocean Isle Beach, Holden Beach and Wilmington.  The lovely waterfront setting is such that many of these great restaurants are waterfront and several have boat drive-up docks.  We love Oliver's, Fishy Fishy, and Provision Company, but there are many others. 
Bars & Lounges
Southport is a very laid back community.  The  bars are casual and quiet (not dance halls), mostly combination restaurants.  There are some great wine shops in the downtown area.  All are within a 5 minute walk of the 205 E. Brown Cottage.
Day Trips
Lots of options here.  See the drop-down menu at the top for ideas.  Bald Head, Fort Fisher, Wilmington waterfront, Oak Island, even Myrtle Beach not too far away.  Lots of unique shopping spots.  All of these great things to do from your Southport base.  Come back to Southport for great evenings, or early morning walks before you start on your day's adventure.  Boat rides in the harbor, fishing expeditions.  Kayaking.  Hiking.  
Guest Reviews
The 205E Brown St. is new as a vacation rental in Fall of 2020, so no reviews to post.  Clicking this link will take you to our VRBO page for our sister property at Ocean Isle Beach, which we also own, click on the reviews button and you will see documented reviews exemplifying how we treat guests and set up our homes for your relaxing and fun vacation enjoyment.
Always include your group details with inquiries- type of group, # in group, # of adults over 25, # young adults-u25, # of teens, and # of children